THANK YOU!
A designated account representative will be with you shortly. 
HIGHEST QUALITY. BEST VALUE. GUARANTEED.
If you are looking for professional design work, high quality full color printing and agency quality marketing advice, you have come to the right place. We offer high quality printing at a price people can actually afford. Let us help you get everything you need to efficiently market your business today.
We run specials & update products daily! Call now for our lowest prices (407) 641-0806
Ready for a Quick & Easy
Print Quote?
keyboard_arrow_leftPrevious
Nextkeyboard_arrow_right
Add a new dimension to your prints! 4D Lenticular Prints is a new product that offers you dimensional print to deliver twice the message in the same print.
Full Color Announcement Cards and Full Color Announcement Magnets make ideal messaging tools for individuals and businesses in a wide variety of vertical markets. Printed on premium substrates or 17-point magnetic stock (for magnets). Announcement Cards are flat cards with the option of blank envelopes. Great for Save the Date Announcements, Special Promotions, Store Openings and Sample Sales.
Booklets are powerful sales tools and provide an excellent way to communicate key messages about your services, products and company. Booklets range from 4 to 52 pages, printed on a selection of stocks. Landscape booklets are also available, just mention "short edge binding".
With a variety of card stocks, you can be sure you won't lose your place with these excellent bookmarks.
Reach new markets, maintain contacts and more with Send it!'s premium quality Business Cards one product that no business can survive without! And with our high standards in quality, service and turnaround, customers are guaranteed to make an impact with some of the finest looking cards in the industry. All for a price that can't be beat.
Our CD and DVD products are tailored to industry-standard jewel cases and slip covers. They are the perfect solution for businesses who manufacture CDs or DVDs, or for presentations, training videos, and software programs. Our CD sleeves are the perfect no-jewel case option for that professional and presentable finish.
Custom Calendars mean 365 days of brand exposure! Calendar printing is an easy and cost-effective way to make sure your business or brand is seen by dozens, hundreds or thousands of people every day. It's also a great way to promote your business. Our full-color Calendars are printed on top-quality offset and digital printing presses and they range from 24 to 32 pages. You'll even receive a free online proof within 24 hours of placing your order so you can review and approve before finalizing.
Saddle Stitched Catalogs have a thicker cover stock for enhanced quality and durability and are great for booklets, magazines, newsletters, event programs and more! Our professional saddle stitch binding offers a great finishing option for your documents.
Perfect binding gives your catalogs a more finished, refined look.
Any flat surface or countertop becomes premium ad space with easel backed Counter Cards. Use them in glass display cases, on bookshelves, register counters and tabletops. Place your marketing message at eye level with full color printed Counter Cards. With several sizes to choose from and the option of lightweight Foamcore or durable PVC, Counter Cards fit a variety of applications. Counter Cards have white chipboard easel backs and are recommended for indoor use.
PVC – 3mm White Our 3mm (1/8″) PVC material is a smooth, bright white rigid plastic that is lightweight, yet very durable and weather resistant.
Foamcore: 3/16 Rigid Foamcore is made of a relatively delicate material and is best for one time use; it can last longer with proper care. This product is not waterproof and is recommended for indoor use.
Easel Backs: 5″ Double Wing Easel Backs are made of white chipboard material and are applied to the printed material. Shipped flat. Final assembly required.
Door Hangers help you maximize your marketing impact efficiently. They are at the pinnacle of effectiveness in this rapidly evolving world of direct marketing strategies.
EndurACE is a truly unique product consisting of special materials that make it water proof, resilient, and give it a durability that will last for many years. EndurACE gives your customers the ability to get maximum exposure out of each card. They are great for restaurant menus, emergency services, insurance cards, business cards and many other creative ideas. EndurACE is a 10pt thick stock which has the feel and body of our 100lb paper stock.
Offset Envelopes:
Offset envelopes are printed flat on offset presses, then die cut and converted into envelopes.
Digital Envelopes:
Digital envelopes are pre-converted and printed on high tech digital equipment. They're available as 4/0 (Full Color on Front – envelope face), 4/4 (Full Color on Back Flaps) and 0/4 (No Color on Front – envelope face and Full Color on the Back Flaps). Full color backgrounds are NOT recommended, it is best to use a white background with low ink coverage, (e.g. logo and text only), the ink coverage should not exceed 40%.
Blank Envelopes:
Blank Envelopes come in a variety of popular sizes and can be used for a wide range of applications. We offer small announcement envelopes and large 9×12 envelopes which hold 8.5×11 inserts and open on either the 9″ side or the 12″ side. Blank Envelopes available on 70lb Premium Uncoated Text, 70lb Linen Uncoated Text and 70lb Natural White – the same high-quality stocks offered for our printed envelopes.
Out-Stub the Competition with Premium full color Event Tickets! Available in a variety of popular sizes with optional Variable Numbering and Perforation, Event Tickets are printed using superior quality stocks and finishes for a professional touch. Numbered tickets are essential for any paid event, allowing you to ensure that all entrants are paid and accounted for. Great for things like fundraisers, raffles, charity galas, theater and more.
Flyers and Brochures are available with a variety of folding options in various sizes. Standard Accordion folds are offered as 4-panels. Coating options on this product category include AQ or UV Coating.
Transform high-traffic floor areas into attention-grabbing ad spaces with 4mil Floor Graphics. Our removable Floor Graphics are ideal for interior applications on most dry, clean and untextured floors.

Wall Graphics are produced with low-tack adhesive backing on 8mil vinyl. This product is ideal for use on almost all surfaces; office or bedroom walls, laptops, and glass windows. Is re-positional many times over.

Lighten up with Backlit Posters! Composed of a 9mil semi-rigid material with a glossy topcoat, Backlit Posters allow customers to create messaging that lights up and stands out with vivid backlit graphics and superior light diffusion.
Display brand messaging, event backdrops, trade show signage and more in a flash with 13oz Scrim Vinyl with Telescopic Backdrop Banner Stands! Portable and easy to set up, these durable and waterproof banners are ideal for use both indoors and out.
Our Aluminum Retractable Banner Stands are available with 10 mil indoor premium vinyl banners and are just as versatile as our "X-style" banner stands. The retractable stands are conveniently packed in a small bag and set up in a few easy steps.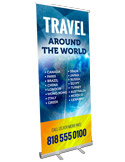 Indoor Banner with "X-Style" collapsible stand. The same material as the Indoor Banner, these near photo quality banners are ideal for POP displays and trade shows. They set up in a few seconds and are 24″ x 60″ with grommets at the corners.
Our Economy "X-Style" Collapsible Banner Stands are versatile and easy to setup. They are available with either our 13 oz scrim vinyl outdoor or 10 mil premium vinyl indoor banners and arrive in a slim nylon bag.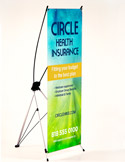 Deluxe Banner Stands are a more stylish alternative to our normal retractable stands. Bigger, heavier base with chrome accents make it stand out. 10 mil indoor vinyl, Collapsible and portable, comes with a convenient carrying case.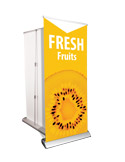 Car Magnets are printed on heavy-duty material and ideally suited for car door signage. These glossy magnets can also serve as temporary signage for construction sites or other changing work environments and offer long lasting outdoor use.
17mil Artist Canvas – Perfect for wall décor, POP displays and more, this lightweight poly/cotton matte Canvas looks great mounted or framed and is also easily rolled and shipped. Hems, Grommets and Pole Pockets options are available for additional ease in hanging.
Polyester Banner – Ideal for trade show graphics, soft signage, and interior decoration these 100% polyester banners are wrinkle-resistant and printed using a superior quality dye sublimation process.
Pole Flags are printed using superior direct to fabric dye sublimation equipment. These premium quality flags are printed on 3 oz. Polyester and have a canvas reinforcement strip with 2 grommets on either the left or the right side.
Feather Flags are printed using superior direct to fabric dye sublimation equipment. These premium quality flags are printed on 3oz Polyester. Ideal for advertising businesses, events, and trade shows.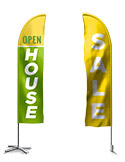 Teardrop Flags are printed using superior direct to fabric dye sublimation equipment. They are printed on 3oz Polyester. Ideal for advertising businesses, events, and trade shows.
10mil Indoor Banners are great for POP displays, artful decor, indoor banners and more. The material has a smooth matte finish which offers high print quality and versatility. It is not waterproof or scuff resistant.
Heavier and more durable than our 10mil Indoor Banner, our premium quality 15oz Blockout Vinyl is intended to block out any light source. It's perfect for banners, signage and so much more.